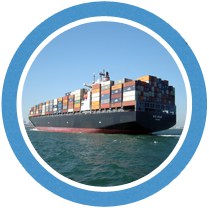 FREIGHT FORWARDING
Freight Forwarding / Logistics section being part of marine service, Apex Impex section was established to add value to our existing list of services and taking care of our customer needs under one roof.
With Apex Impex you will benefit from our people oriented / customized approach for your world trade requirements by our qualified and experienced staff.
We view each transaction as an important link in strengthening our relationship with our customers and make sure that they provide reliable, efficient and quick services; at the same time provide competitive prices.
When operations are worldwide in scope, the need for accurate, up-to-date information is constant. Apex Impex is able to maintain efficient and speedy communication between itself, agents local/overseas, its affiliates local/overseas as well as with all its clients.   With immediate access to communication network using telephone, fax, email and internet, we are able to monitor the progress / status of our shipment as it moves.
The company places great emphasis on good customer relationship and our energetic staff operate from both; the office and market being available at all times for advice and information to be able to provide on the spot quotations as and when required.
Such full service support is yet another measure of Apex Impex commitment to connect your company with ours to mutual advantage.
Various services offered under this section are as given below:-

AIR FREIGHT
Whether you have hot delivery shipment or sensitive cargo we can offer an array of air freight services to meet your satisfaction.
Having our affiliated agency offices all over the world ensures providing the best services to all our customers.
AIR FREIGHT SERVICES OFFERED :
Consolidation Services
Hazardous Goods Service
Emergency
Courier
AOG
Full Charter Coverage
Warehousing / Packing & Crating
Door To Door Services
SEA FREIGHT
Our global network with our affiliated agencies enables moving huge volume of containers from all over the world and provide constant monitoring of the shipment (FCL / LCL) in all its phases.
SEA FREIGHT SERVICES OFFERED :

IMPORT / EXPORT [LCL/FCL]
Consolidation Services
Hazardous Goods Service
Door To Door Services

TRANSPORTATION
Apex Impex offers complete range of transportation services with one-stop-shopping.  Our reliable affiliated fleet provides full flexibility at all times for transportation of any type of material to anywhere at any time.

TRANSPORTATION SERVICES OFFERED :
Complete Loads and Part Loads
International Groupage Services
Providing of all types of equipment (trailers, vans, lorry, fork lifts, cranes, etc.) required for transportation

WAREHOUSING & PACKING
Apex Impex has global presence through its affiliated companies for warehousing, packaging and shipping of anything to anywhere at any time.
WAREHOUSING and PACKING SERVICES OFFERED :
Arrange / organizing warehouse on hire / lease for short / long term
Storage, warehousing, supply chain & Logistics
Organize open space for container storage / container yard.
Act as intermediary for warehouse / container yard.
Whether you are a small company or big, your enquiry is small or big;
we are big enough to cope….. and small enough to care.